MEET THE 2014 NATIONAL
ANTI-BULLYING AMBASSADOR YOUTHBOARD
Every year we have a new National Youth Board which we open applications up for at the end of the Summer Term. Congratulations to the 15 Anti-Bullying Ambassadors who were chosen to be on this year's Youth Board! During their year they will meet in London to share and learn ideas on how to tackle bullying in their schools and communities, give us ideas about how we can make our programme as good as possible, speak at events, inform the public about the programme and meet some of our very special guests. They will represent the voices of thousands of Anti-Bullying Ambassadors across the country. We had an awesome time with our 2013 - 2014 Youth Board and we can't wait to see what our new members achieve over the course of the year!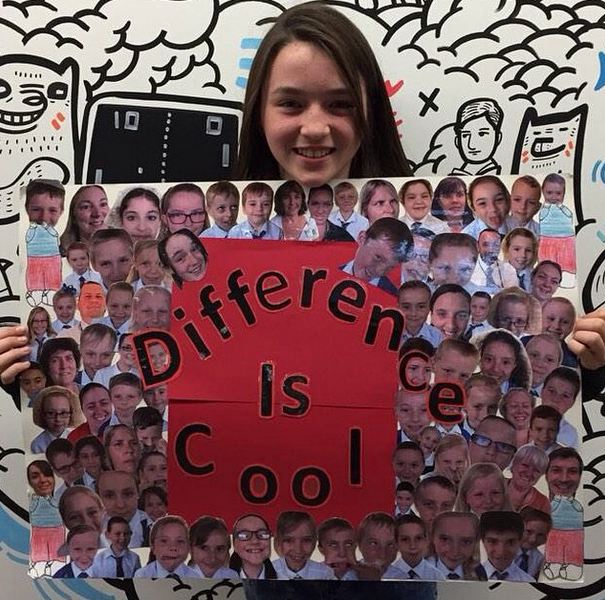 KYRA: Chair of the Youth Board
Kyra is 15 and goes to school in Worcestershire. She is passionate about the work that the Anti-Bullying Ambassadors do in their schools and communities and wishes to completely stamp out bullying all together.
Kyra has been bullied and knows how much it can affect a person.
She is very confident that the work that the Anti-Bullying Programme does will irradicate bullying very soon. Kyra decided to apply for the Youth Board as she wanted to help people's ideas happen as well as her own. She is very much looking forward to meeting other people on the Youth Board who have the same passion as she does.
LEWIS: Vice-Chair of the Youth Board

Lewis is 15 and goes to school in Staines. "I wanted to join the Youth Board because I really want to take my commitment to stop bullying worldwide. As someone who has been bullied I have a passion to help this cause on a larger scale.
In the anti-bullying training I learned to understand the mind of a bully and why they may do what they do. At my school I have helped to lead our group of 27 Anti-Bullying Ambassadors. I have delivered assemblies to over 200 students, helped out at our Year 6 induction day and handed out happy bags with feel good statements on them and helped various people in school with their issues of bullying."
The anti-bullying scheme has been a great success in Lewis' school and they have won the Diana Award three years in a row. Lewis is looking forward to sharing the successful anti-bullying ideas from his school with the rest of the Youth Board so he can help other young people in England.
DANIEL is 10 and goes to school in Chesterfield.
"I am so passionate about stamping out bullying that I wanted to do more that's why I applied to become a Youth Board member. Being bullied is horrible and makes people sad, I should know I have been bullied myself and I would never dream of bullying anyone ever, that's why I want to stop bullying. I just want everyone to be able to smile and be happy."
As an Ambassador Daniel has been into local feeder infant schools to tell them what bulling is, what to do and who to look for when they join his school. At his school they have playground patrols and lots of posters with STOP on them, this stands for bullying happens several times on purpose and we must STOP it.
INAYAH is 10 and goes to Primary school in Worksop. She is passionate about preventing bullying and supporting both the bullied and the bullies, not only in her school but across the whole country.
As a survivor of Cyberbullying herself, she knows how it feels and really wants to help other children who might be in the same situation. Inayah believes:
"No matter who you are, or where you come from, we are all equal and deserve to be treated with respect. Everyone should have the right to be happy and safe!"
After attending training in October Inayah has: helped write a child-friendly version of the school's Anti-Bullying Policy, written a play about a girl's experiences as she moves to a new country and tries to make friends at a new school, trained other pupils as Playground Negotiators, run a number of anti-bullying assemblies and introduced a Buddy Bench on the playground.
ETHAN is 12 and goes to school in Middlesborough. He has lots of ideas of how to beat bullying including radio patrols, buddy benches and comedy corners to make children who feel bullied feel better. He also thinks it would help if positive messages are displayed in schools letting children know they can speak in confidence and their worries will be investigated and acted upon not just cast aside. The Head of Year at his school has been great at helping Ethan in his struggle against bullying by letting him know his door is always open and he is happy to help.
"I'm passionate about stopping bullying as I have been through and am going through it myself. By getting my ideas across I will be helping myself cope as well as others."
CHLOE is 11 and goes to school in Norfolk. Chloe hates hearing or seeing people getting bullied. Chloe was bullied and after it stopped she decided that she wanted to be someone who helped others who were going through the same things as her.
She describes herself as outspoken, friendly, approachable and always willing to give others advice.
"I heard about the Youth Board and was like yes, I'm doing it! I can change people's lives. I like seeing people happy, not upset. I can do more than just help students at my school."
SAM is 14 and goes to a school in Kettering, where he is involved in the school's BSN (Bullying Stops Now) team. As well as helping with events and activities, he is a BSN Anti-Bullying Ambassador and supports his peers in school. He also helps to create the termly BSN newsletter that goes out to all students.
Despite only being recently trained as an Anti-Bullying Ambassador Sam has lots of new projects planned for the start of the new school year, such as creating a room where students can speak to their peers about any problems that they may have. Sam will also be involved in running the Anti-Bullying Talent Show during Anti-Bullying week.
Sam is very proud that the school BSN team have gained the Diana Award for their work.
"I wanted to apply to be on the Youth Board as I am really passionate about tackling bullying and want to inspire others. I look forward to giving and gaining ideas as well as spreading a message that bullying should stop."
LYDIA: Youth Board Blogger
Lydia is 15 and goes to school in Shropshire. She has enthusiastically led the anti-bullying campaign in her school including getting some fellow students involved with her new 'Good Citizens Group'. Lydia has used her film skills to start producing an internet safety film to be shown to the whole school. She has also organised and carried out an Internet safety poster competition and secured anti-bullying assembly slots for the new academic year. She describes herself as "a motivated and determined person, always ready for a challenge and trying something new. Being on the National Anti-Bullying Ambassador Youth Board is a dream come true and I can't wait to make a difference!"
THEO is 12 and goes to school in Lancashire.
He learnt about anti-bullying from a previous Youth Board member Jack who shared his experience of bullying on CBBC Newsround. After watching Jack Theo decided he wanted to play his part in standing up to the bullies by receiving training to become an Anti-Bullying Ambassador in his school.
"The CBBC programme inspired me, and I decided, there and then that I would become an Anti-Bullying Ambassador. I went to a training day and learnt how to deal with bullying. I had a lot of fun and I put it on myself to do whatever I could to stop this dreadful thing that claims hundreds of lives every year. I hope that the Youth Board will give me the chance to do just that!"
MABEL: Youth Board Blogger
Mabel is 14 and is currently studying at an all-girls school in London. What made Mabel intrigued about being on the National Youth Board was knowing she would make a change to bullying all over England, even the smallest things like running events in school would make a change in her community.
"I feel as if being on the Youth Board will help me have a wider canvas on what I and others on the Youth Board could do to make a difference. As for my passion on why I want to stop bullying its simple, I'm sick and tired of seeing kids in my generation being beaten up emotionally and physically and I just want to at least get bullying to stop, eradicate it from England and then move on to other places around the world. That's the end goal for me and it should be for everyone."
TAUHID (Taz) is 10 years old and goes to school in Liverpool.
"I've had the pleasure of being an Anti-Bullying Ambassador for my school and have been able to help and make a difference in supporting other children with whatever problem, if any, they have. Being an Ambassador for my school has helped me tackle bullying head on and "SAY NO TO BULLYING" throughout the school."
Taz wants to make other children throughout the country understand that bullying is wrong and nobody deserves to be bullied for any reason at all.
"I am very excited about being a member of the Youth Board and I am looking forward to the meetings in London to share my ideas with other members and meet the whole team! Together we can make a difference and put our ideas together to stop bullying but also help those who are bullied."
LAURA is 14 and goes to school in Luton. She applied for the Youth Board because she saw this as an excellent opportunity to gain more knowledge about bullying and how to tackle it.
Laura's school have an anti-bullying group called A.B.A.T. (Anti-Bullying Awareness Team). They have assemblies and lessons on Anti-Bullying and wear badges to show people they are there to help. Laura has also gone into local Primary Schools and helped educate younger kids about the importance of anti-bullying and how much an effect bullying has on lives.
Being a past bully victim, allows Laura to understand how the current bully victim is feeling and be able to help them through what she has been through. Laura became an Anti-Bullying Ambassador because she believes:
"It's nice to have someone there for you when you feel like you have no one."
TRAVIS is 14 and lives in Bradford with his Mum, Dad, elder brother and twin sister.
"I wanted to join the Youth Board is because I have past experience of bullying myself and I would like to stand up and be heard for other people suffering in my school, town and my country. Other reasons are bullying is a horrible experience that no one should have to endure, it is not a natural process. You're either bully or victim by force or by choice, making the wrong choices effects so many people in a negative way. I personally know what it's like to stand out and be different, my autistic views can make me noticeable and a target for bullies. But no more! I'm here to help other people to learn being different isn't all that bad and finding myself along the way."
KATE is 11 years old and is from Cambridgeshire. "I was absolutely thrilled when I got invited to be on the Youth Board and I can't wait to share all my ideas. I'm really passionate about anti-bullying as too many people around me have been bullied. I have just left Primary School and am starting College in September and I am really looking forward to getting the anti-bullying programme started up there. I'm super excited about working as part of a team with the other members of the Youth Board and learning how we can help each other with the tasks ahead."
NICK is 13 and goes to school in Colchester. Nick was bullied at Primary School. He wanted to become an Anti-Bullying Ambassador to help and support others who have been bullied and encourage them to speak up.
Since being trained as an Anti-Bullying Ambassador Nick has run trust exercises with his peers in school, lead assemblies on bullying and contributed to the school's Pupil Promise agreement.
"I am looking forward to gaining more knowledge about how to bring new ideas to the school which will stop people my age giving each other negative comments. I am really looking forward to working with likeminded people on the Youth Board."
Our Youth Board are from all across England...